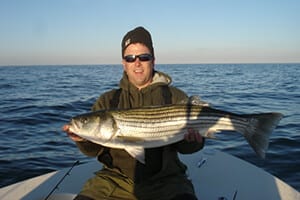 Striper Fishing
Starting around mid April thru June
November into January
Night fishing …. May thru December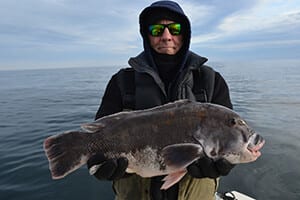 Tog Fishing
March thru mid May
October thru January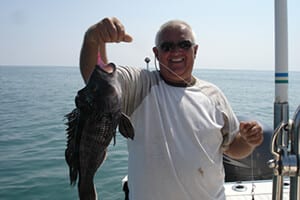 Sea Bass Fishing
Third week of May thru November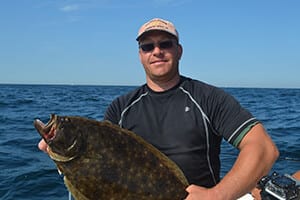 Flounder Fishing
April thru November
July, August and September on the deep water wrecks
Night fishing trips – May and June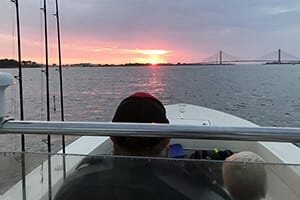 Combo Trip
Launch late afternoon and fish into the evening
Fish for flounder … than stripers and bluefish at night.
6 Hour Minimum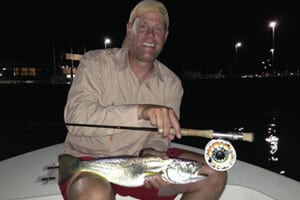 Fly Fishing
Saltwater fly fishing is one of the fastest growing sports in town. Whether you just want to start learning, are a novice or a seasoned veteran, Captain Cook will customize a trip which is right for you. Targeted species include: Rockfish (stripers), Bluefish, Seatrout, Flounder, Shad and Croakers. Fly Fishing night trips have become more popular in the past few years. We fish for different species around lights and also around structure such as the Inner and Outter Walls at the mouth of the Delaware Bay.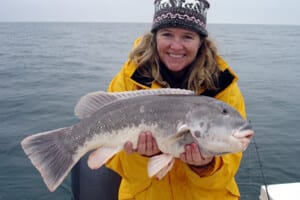 Wreck Fishing
The Delaware Coast is blessed with several natural wrecks and artificial reef sites. These sites are located through out the Delaware Bay and Atlantic Coast. While wreck fishing, our 3 primary targets are Tautog, Seabass and Flounder. Captain Cook makes all of his own custom lures and rigs for wreck fishing, including his ever-popular floating bucktail.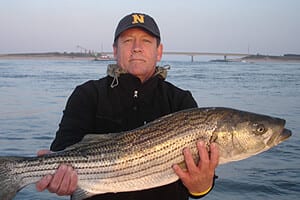 Light Tackle Fishing
Spin casting and conventional rods are used in conjunction with light tackle methods. These methods include casting artificial lures and rigged baits for species such as Rockfish (stripers), Seatrout, Bluefish, Shad and Flounder. Other tactics include drifting live and cut baits on custom made rigs and tackle. Since fish are structure oriented, all fishing is done around some type of structure.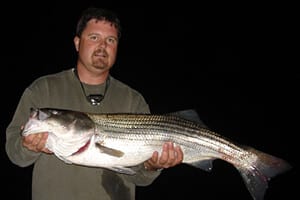 Night Fishing
Depending upon the species, a lot of fish feed more aggressive at night.  Night fishing offers a more solitude style of fishing as most of the boat traffic has dissipated and the winds generally lay down at night. Both fly fishing and light tackle methods can be used to target different species.  Casting in and around structure is the preferred method used at night.
Although several different types of fish can be caught at night, Rockfish (stripers), Seatrout and Flounder are the most sought after species.